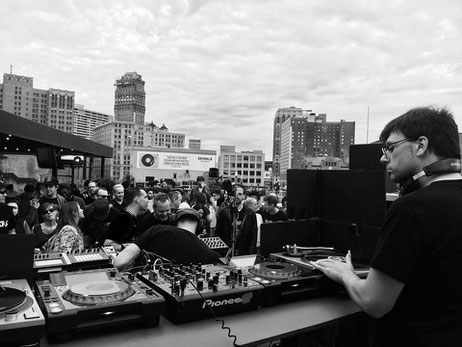 English version / German below
Our next artist lives on the other side of the planet, so, let's go and visit him in Waterford, MI.
DJ and producer Annix TM 
has been honing his own sound of Techno music since the 1990s. 
His production work ranges from funky to dark to mechanical but always nodding to the sound and spirit of his birthplace and lifelong home of Detroit. You can expect his DJ sets to explore all eras and flavors of techno while being mixed with precision, speed, and force for maximum impact.
His first collaboration with the label is the track called Durga Mata on the ASR Compilation 2017.
Please welcome the new soldier of the family and enjoy his music!
-----------------------------------------------------------------------
Unseren nächsten Künstler lebt auf der anderen Seite des Planeten Erde, also lasst uns nach Waterford, Michigan, reisen.
DJ und Produzent Annix TM hat seit den 1990er Jahren seinen eigenen Technosound entwickelt und verfeinert. Seine Produktionen können als funky, dark oder mechanisch bezeichnet werden und stehen immer in Klang und Spirit zusammen mit seinem Geburtsort und langjährigen Heimatort Detroit. In seinen präzise gemixten DJ-Sets kann man alle möglichen Techno Genres wiederfinden.
Die erste Zusammenarbeit mit ASR Label ist der Track Durga Mata, den ihr auf unserer ASR Kompilation 2017 finden könnt.
Ein großes und warmes Hallo an unser neues Familienmitglied! Viel Spaß beim Hören!