.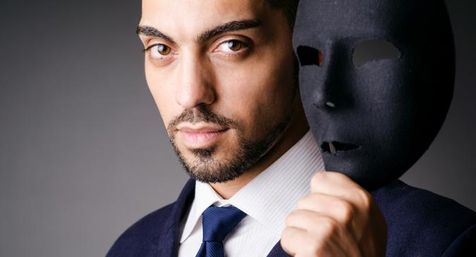 Say no to fake people. (English, German below)
Almost every day you can hear or read about tracks stolen from artists, stolen samples and…..nothing. It seems people nowadays don't care anymore if someone stole a track from another artist and makes a "big hit" out of it.
Can this be true? How can it be that people steal music, change their names, use a silly mask or dress colorful and say that they are professional DJs and producers? And even worse: Some of them have the support of well-known booking agencies.
In recent years I have seen a bunch of pseudo producers who are calling themselves "great producers" producing "bombs". And when you finally listen to the release you find out that they only use samples they bought or downloaded for free.
I am sure that you have some names in your mind and I am sure some of you already released stuff like this. These puppets do their shows with their live acts or their – trendy and stupid name nowadays – hybrid sets.
It's a SHAME to see these people doing a complete FAKE SHOW at the stage, getting a lot of money, cheating the promoters, the labels and most important, the people who believe in them.
What happened to these days when a truly LIVE ACT was really amazing (it doesn't matter the music style) because all the machines and sequencers and all the gear they had on stage? What happened to these days when real DJs spent a lot of time training their skills and spent tons of hours digging for great tracks? What happened to these days when REAL PRODUCERS spent several hours, days and sometimes weeks in the studio just to get the perfect sound for their own tracks?
It seems that everything changed in the music business. It seems that the music is not important anymore. It seems that the most important thing is how good, trendy, funny, dark or stupid artists look on stage. It seems that it doesn't really matter if the artist is only playing a mix CD or a DJ set from someone else. Or if this "amazing live act" was previously recorded. It doesn't matter if this pseudo artist has five machines on stage but only uses the "play" button on the laptop. The thing that matters is to have the DJ booth filled with colored lights in the machines, right? So people could say: "Hey this guy has a lot of gear, so he/she is cool…bro!"
It looks that everything is damn apparel on the stage, a lot people don´t care or they have no memory at all about ALL THESE FAKES!
As I said:
"As an artist, you have to work respectful with the labels who trust in your music, with the promoters who trust in your work, but most important...with the people and fans outside who believe in all your work and who believe totally in you!"
Real producers who creates their own music and productions with their own knowledgement without sample libraries and tricky dumb things...they have my entire respect and support.
Say no to fake people! 
---------------------------------------------------------
Sag nein zu falschen Leuten (Deutsch)
Fast jeden Tag hört man etwas über Künstler, die Tracks von anderen Künstlern stehlen, die Samples stehlen, und was passiert? Nichts. Es scheint, dass es den Leuten heutzutage egal ist, ob jemand einen Track eines anderen Künstlers stiehlt und dann einen "großen Hit" daraus macht.
Kann das wirklich wahr sein? Wie kann es möglich sein, dass Leute Musik stehlen, ihren Namen ändern – dann beispielsweise blöde Masken benutzen oder sich farbenfroh kleiden – und sagen, dass sie professionelle DJs oder Produzenten sind? Und noch schlimmer, dass einige von denjenigen auch noch Unterstützung von bekannten Bookingagenturen bekommen.
In den letzten Jahren habe ich eine Menge Pseudoproduzenten gesehen, die sich selbst als großartig bezeichnen und "Bombenhits" produzieren. Und wenn man sich schließlich das Release anhört, merkt man schnell, dass sie nur Samples verwenden, die sie gekauft oder kostenlos runtergeladen haben.  
Ich bin mir sicher, dass ihr einige Namen im Kopf habt und ich bin mir sicher, dass einige von euch auch diese Tracks schon released haben. Diese Clowns machen dann ihre Live Act Show oder – heutzutage ein trendy aber dummer Name – ihre Hybrid Set.
Es ist sehr schade zu sehen, dass diese Leute eine komplette Fake Show auf der Bühne abliefern und dafür eine Menge Geld bekommen, die Promoter und auch Labels verarschen und das schlimmste, auch die Fans, die an diese Künstler glauben.
Was ist mit den Zeiten passiert, als ein richtiger Live Act noch wirklich erstaunlich war (und es ist egal von welchem Musikstil wir sprechen), mit all den Maschinen und Sequenzern und all den Geräten, die auf der Bühne benutzt wurden? Was ist mit den Zeiten  passiert, als noch ein echter DJ stundenlang seine Fähigkeiten trainierte und auch stundenlang nach großartigen Tracks suchte? Was ist mit den Zeiten passiert, als ein echter Produzent Stunden, Tage oder Wochen im Studio verbracht hat, nur um den perfekten Sound für seine Tracks zu produzieren?
Es scheint, dass sich alles im Musikgeschäft verändert hat. Es scheint, dass die Musik nicht mehr wichtig ist. Es scheint, dass das wichtigste ist, wie gut oder trendy oder lustig oder dunkel oder dumm ein Künstler auf der Bühne aussieht. Es scheint, dass es nicht wichtig ist, ob ein Künstler nur eine Mix-CD oder ein DJ-Set eines anderen Künstlers spielt oder ob sein "fantastisches" Live Set vorher bereits aufgenommen wurde.
Es scheint egal zu sein, dass Pseudokünstler fünf Maschinen auf der Bühne stehen haben und dann nur "Play" auf dem Laptop drücken. Das einzige, was wirklich wichtig zu sein scheint, ist eine volle Bühne mit blinkenden Maschinen, richtig? Damit die Leute sagen können: "Hey, der Typ/die Frau hat jede Menge Geräte, deshalb ist er/sie cool…Bro!"
Es sieht so aus, dass alles nur noch eine oberflächliche Show auf der Bühne ist; und vielen Leuten ist das egal. Oder sie können sich an diese Schwindelei nicht erinnern.
Wie ich schon sagte:
Als Künstler kannst du nicht respektlos mit Labels umgehen. Sie vertrauen in deine produzierte Musik. Als Künstler kannst du nicht respektlos mit Promotern umgehen. Sie vertrauen in deine Arbeit. Aber das wichtigste…du kannst nicht respektlos mit deinen Fans umgehen, die an deine Arbeit glauben und letztendlich an dich glauben!
Echte Produzenten, die ihre eigenen Sound produzieren, ihre Produktionen mit eigenem Wissen kreieren, ohne Sample Bibliothek und anderen dummen Sachen….diese Produzenten haben meinen vollen Respekt und meine volle Unterstützung.
Sag nein zu falschen Leuten!