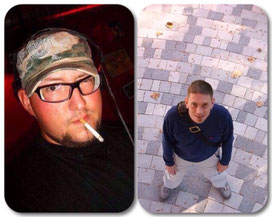 English
We are back in Germany and are happy to present you two new members of the ASR family: Stage & Coffee.
The project consists of Stev Dive and Andreas Reising, who are part of the electronic music scene with several tracks and party events for more than a decade.
Their track for our Assassin Soldier Recordings Compilation is called Mod Two M. It is a perfect track for clubs and festivals with really nice baseline sounds.
Please welcome Stage & Coffee!
----------------------------------------------------
Wir sind zurück in Deutschland und freuen uns, euch zwei neue Mitglieder der ASR Familie vorzustellen: Stage & Coffee.
Das Projekt besteht aus Stev Dive und Andreas Reising, die seit mehr als einem Jahrzehnt in der elektronischen Musikszene mit Tracks und Party Events vertreten sind.
Der Track für unsere Assassin Soldier Recordings Kompilation heißt Mod Two M. Ein perfekter Track für Clubs und Festivals mit einer wirklich schönen Bassline.
Herzlich Willkommen Stage & Coffee!