.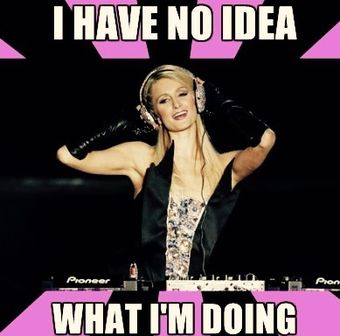 I did some research on new topics for the blog and I saw again that the web was flooded by pictures and videos of half-naked women behind a DJ booth, pressing the start button of the laptop and trying to put more attention to their boobs and asses instead on the music.
I started asking myself: Is this the new definition of a DJ? Does a DJ nowadays needs to have good looking instead of having a good music taste and the ability of communicating with the crowd through the music?
Can it be that the music is not so important anymore? Just to be clear, there are lots of good looking DJs – female or male – which have awesome skills in DJing. For me, a DJ needs to have the following skills: a unique music taste, fantastic mixing skills and of course the connection to his/her crowd. If he/she is good looking is really unimportant.
A DJ needs to get the connection to the crowd, this is essential. Sometimes this can work immediately after starting with the first track, sometimes this can take longer. A DJ has to know its crowd to make them a perfect evening. 
So what about the mixing skills? In my opinion you need to have it, to call yourself a DJ. Can you remember all nights you spend on the dancefloor because the DJ put some fantastic music on and it felt like the track last the whole night? What an amazing skill to mix together different tracks and different music styles and it still feels like one track. I know, nowadays the mixing skills of a DJ are not that important anymore. Many thanks to the BPM counter. 
And music taste?  I think a good music taste means putting together new and old school music, show the crowd new tracks but still take care of their taste and what they like. A perfect mixture of music makes a night at the club more interesting. Who in the hell wants to go out and listen the same music every weekend? Isn't this getting boring at some point?
What is your opinion on this? Is the job of a DJ to give a crowd an incredible and unforgettable evening on the dancefloor? In my opinion, yes. Do you agree?
Share this post with your friends and let´s talk everyone about this ok?